Democracia Participativa
Visto: 1789
Article of Impeachment Nº 1 was rejected by 52 "not guilty" votes against 48 "guilty" votes.
Article of Impeachment Nº 2 was rejected by 53 "not guilty" votes gainst 48 "guilty" votes.
Vote was entirely along Party lines, with the exception of Republican Senator Mitt Romney, who voted "guilty" on Article Nº 1, but reconsidered as "not guilty" on Article Nº 2. One Independent Senator voted "guilty" on both Articles, and another Independent Senator voted "not guilty" on both Articles.
Washington DC, Feb.5 (DP.net).– Article I of the Constitution grants the House the sole
power of impeachment, and if the House does impeach, the Senate the "sole power to try all impeachments." It also provides that the Chief Justice of the U.S. Supreme Court will preside if the trial involves a President. The Constitution authorizes the Senate to "determine the rules of its proceedings," including additional rules governing an impeachment trial by the Senate. This was the procedure followed and President Donald Trump was acquited of both impeachment charges presented by the eight House prosecutors, presided by Adam Schiff (all of them members of the Democratic Party). They have accused him on two accounts: that he abused his power and that he obstructed Congress.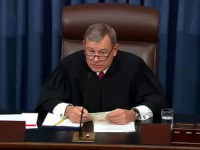 The tally for conviction fell far below the 67-vote threshold necessary for removal and neither article of impeachment garnered even a simple majority. Chief Justice Roberts: "Two-thirds of the senators present not having pronounced him guilty, the Senate adjudges that the respondent Donald John Trump, President of the United States, is not guilty as charged in the first article of impeachment."
The impeachment trial is over and the White House just released a statement claiming vindication for President Trump.
Influential Republican Sen. Lamar Alexander of Tennessee, who is retiring, worried that a guilty verdict would "pour gasoline on the fire" of the nation's culture wars over Trump. Other Republicans siding with Trump said it was time to end what McConnell called the "circus" and move on. Trump ally GOP Sen. Lindsey Graham said it was a "sham" designed to destroy a presidency.
Most Democrats, though, echoed the House managers' warnings that Trump, if left unchecked, would continue to abuse the power of his office for personal political gain and try to "cheat" again ahead of the the 2020 election. In closing arguments for the trial the lead prosecutor, Rep. Adam Schiff, D-Calif., appealed to senators' sense of decency, that "right matters" and "truth matters" and that Trump "is not who you are."